Kids absolutely love playing with animal masks for dress up, role-play or a birthday party themes. Not only do kids develop social and cognitive skills, this kind of activity helps kids interact with their environment in so many different ways. Kids face masks can be made from construction paper, fun foam or plain paper. You can print off templates from various internet sites and even get pre-made foam templates.
Birthday kids may have a favorite animal from a movie or TV show and want a themed party. The animal character can provide plenty of inspiration for party activities, decorations and favours to keep your little guests happy. Because the animal theme is so popular, you'll find many themed party supplies to make the party preparation easier.
Planning a birthday party?
Here are a few fun and popular theme party ideas to get started. You can get a corresponding themed party pack for each of these characters. The theme consists of costumes, decorations, games, crafts, a specially decorated cake or cake topper and party favours.

Need a specific animal character for a drama play?
You can get any animal character that you choose in rigid plastic which are sized especially for kids. Your child can add a shirt to make their own costume.  Head on over to Costume Craze has one of the largest selections of kid's masks on the internet!
Looking for downloadable animal face masks?
The best place to find the largest selection of downloadable and printable masks on the internet is AngelFire.com. You'll need to have a color printer, clear contact paper, card stock paper and a pair of inexpensive children's sunglasses.  If they prefer, kids can also print out a paper mask and color it themselves.
Foam mask party favor ideas
Foam masks are also an inexpensive idea for handing out as party favours. There's a large variety over at Ebay, if you'd like to take a look.. They come in packages of 12 and come in variety of designs such as rabbit, pig, dog, sheep cat and cow. How about painting on a face mask? This is a another fun alternative especially for older children.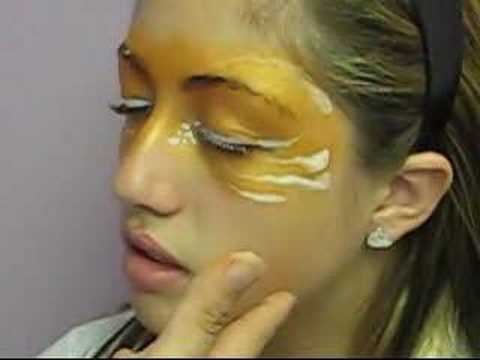 Another fun project for kids is to make masks out of paper plates.  Just scroll down the page and you'll see a whole list of them. You simply use the paper plate as a template and trace it onto colored construction paper of your choice depending on the animal. Draw and cut out the ears. You'll want to make sure the eye holes match up so hold the mask up to the child's face and trace them in. Cut the mask eye holes out. The fun part is when kids can draw whiskers, mouth and nose with crayons or markers. Then you can punch holes in the side of the mask. Use yarn or elastic to tie to the ends of the mask and voila you have a simple yet fun lion mask.
Dressing up in animal masks is a definitely whole lot of fun and also help kids express themselves and interact with other children. Here's a fun bunny mask idea made out of construction paper.

Here are a few animal mask resources.  We have girls party ideas as well as creative boys birthday games. A TV show like Backyardigans give us some fun animal mask ideas. Also animal safaris are very popular right now.Last but not least, you can find animal mask wall hangings over at Kaboose.