Children's masks are a great way to spark your little ones imagination. Masks not only keep kids busy during rainy days, they can spend quality time doing these enjoyable arts and crafts.  A fun activity for many kids is to print out templates and then have them decorate and color the masks. Foam crafts are another fun and creative way to make a comfortable mask.  Kids love them  for so many reasons. It could be Halloween, a school play, dress up or play time, something special for a child's goody bag or a party favor.
For a fun treat for a birthday party consider planning a themed animal party, such as a zoo, safari or jungle theme you can purchase a pack of twelve masks at Amazon.  You're kids can dress up as either a zebra, tiger, elephant, panda, monkey, lion, dog or cat.
If you're kids prefer to make them yourself, Karen Weisman of ehow.com has created a whole series teaching kids how to make masks out of foam. The great thing about foam is that it's easy for kids to work with. The masks themselves are comfortable to wear. Kids also find the foam material easy to glue and cut.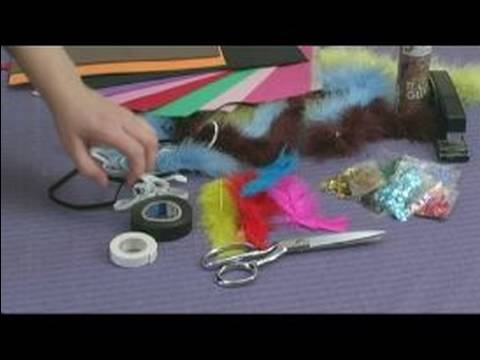 You'll need to make a trip to the arts and crafts store. The supplies you will need will be foam color sheets, feather boa, elastic, glitter, soft tape, stapler, craft glue, sequins and good scissors. Other optional materials are fuzzy pipe cleaners, beads, tassels and lace.
You first make a basic mask from construction paper. Then make sure you have the that the eye's align properly by putting the mask on your child's face. Trace where you want the eyes to go.
The fastest way to put feathers, beads and sequins down is to lay glue down on the foam material first, then attach your decorative materials.
If you'd like to make simple masks here's a great resource for kids mask templates. Simply print them out, have the kids color the mask, cut it out the edges and eye holes. Measure out the appropriate amount of elastic and staple it on either sides of the mask.
The internet is a wonderful resource these days, especially for families and kids. It's full of helpful sites offering free downloadable templates and instructional videos.  They have animal, celebrity, Mardi Gras and masquerade masks ready for you to download.
Creative masks for kids are a big part of having fun and boosting creativity. Kids can learn to make their own for hours of endless fun.