What's a Mardi Gras without a mask? Carnival and Mardi Gras are fun time to create unique, handcrafted masks. It's also fun to head down to the local craft store to pick out all those unique craft supplies.
Have you ever wondered how Masquerade masques became popular? Way back in the day, around the 15th century a traditional masque was worn for events such as royal occasions, pageants and marriages. Since there were such strict social classes at the time a masque gave temporary anonymity and helped everyone celebrate a little easier.
There are many resources for making them from scratch but if you prefer you can get beautiful pre-made masks for the whole family by going to eBay. There have teens and kids Venetian and Mardi Gras masks in every style that you can think of.
Making Masques from Cardboard, Craft Foam, Paper Mache or Plastic
There are several ways that you can make party mask. You can use cardboard, craft foam, paper mache or plastic masks.
Two very important points. Make sure you have a copy of a template or picture or have some sort of idea about what you want to create before you head down to the craft store. This way you can narrow down what you need and avoid any frustration. Also, if your child is old enough to use a glue gun this makes it much easier to make the costume masks.
Here are a few supplies that you can use.
Cardboard or craft foam
Large craft stick
Faux jewels
Feathers
Foil wrapping paper or paint
Glitter
Glue with glue gun
Protective cloth or paper
Ribbon
Scissors, hole punch and utility knife
Sequins
To keep your workstation protected, lay down a paper or cloth.
Preheat the glue gun for at least 10 minutes.
Decide on a mask design by either printing out a free template or using a picture of one that you like.
Use the template and draw out the shape  onto lightweight cardboard or foam especially made for crafts. Place a tiny drop of glue at the back of the mask to hold the template securely before you cut it out.
Use a good pair of scissors to cut it out.
You can either add the masks to a craft stick if you want to hold it. Or you can staple an elastic band to the sides if you want to have it held to the face.
Now it's time to decorate and add some color and flair. Add some ribbon, jewels, feathers or sequins if you like. Make sure you completely dry it before wearing it!
Here you can see the basic idea for making a standard Masquerade Mask.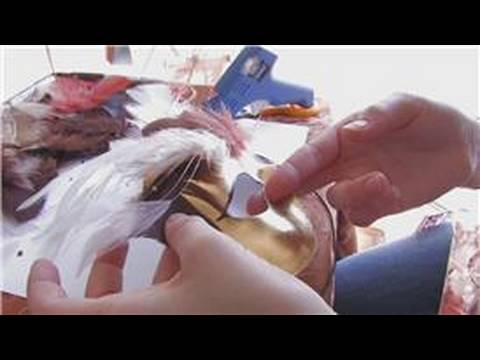 Butterfly Masks are very popular during carnivals. Here's how you can make and decorate one of your very own.
These paper mache masks are made from flower, water and newspaper and are fitted to your own face. They look great and are easy to make! Here's how a little ingenuity can make a very clever paper mache disguise.
Another idea is to paint up a plastic face by purchasing either plain white full or half mask. Here are some ideas on how to paint your costume mask. Just head over to the right hand side of the page and scroll down. This is one of the largest selections of fun crafts for kids I've ever seen!